Local 2533 Swearing in ceremony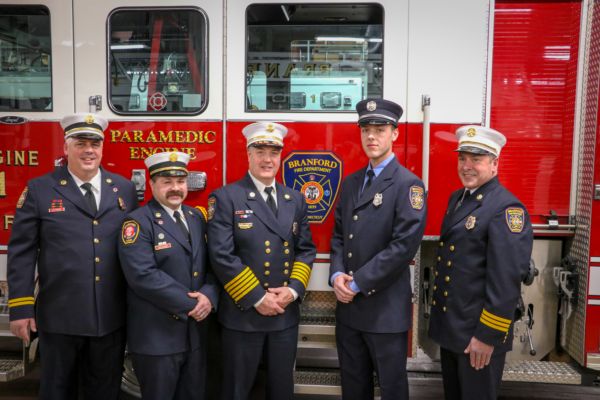 Capt. Chittenden, F.M. Dobuzinsky, Chief Mahoney, F.F. Mahoney, D.C. Bloomquist (Pictured)
On December 18, 2017 at Branford Fire Headquarters, along with family, friends and co-workers, 4 members of Local 2533 were sworn into their new ranks within the Fire Department. Gary Bloomquist was sworn in as Deputy Chief of Administration and Safety, Randall Chittenden was sworn to the rank of Captain, Robert Dobuzinsky was sworn in as Fire Inspector, Tyler Mahoney was sworn into the Branford Fire Department as a Probationary firefighter.
Gary brings to this new position 37 total years in the fire service, including 18 years as an officer for the West Shore Fire Department until his retirement 2011. Gary initially started His career in Branford in 1981, moving to west shore but coming back to Branford in 2012 becoming a Firefighter\Paramedic leading up to his newest position.
Randy brings to his new position 28 years of firefighting experience. Just over 9 years as a volunteer for the Branford Fire dept. and 18 as a career member. Randy, during his time as a firefighter, had become a part of the training division, Paramedic Preceptor for Yale Sponsor Hospital and recently took on the responsibility of the upkeep of the portable and mobile radios for the department.
Robert started his career in Branford in 2002 as a Firefighter with M.P. Rice hose Company, in 2005 Robert was hired as a career Firefighter\Paramedic. Robert reached his goal as a Deputy Fire Marshal 2013 for the Branford Fire Department. Robert is a member of the CT and MA USAR teams, bringing all that experience with him since 2014.
Tyler recently graduated the Connecticut Fire Academy class 60, "The Savage Sixty", in December 2017. Tyler started as a junior volunteer in Branford with Indian Neck\Pine orchard Company 9 at age 14 in 2011 and rose to the level of volunteer lieutenant before getting hired as a career firefighter.